10 Fun Things To Do Week of May 31st: Shopping, Golfing, Music and MORE!
OnOklahomaCity.com proudly presents our newest feature, FUN10, a list of the top 10 things to do in Oklahoma City this week, and every week! Every Sunday, we'll drop a new FUN10, to give you a head start on your week and a heads up on what's going on over the coming seven days. Check out FUN10 every Sunday for the details on ten awesome events happening around town. It's a cool read, and a great way to get started planning your entertainment for the week.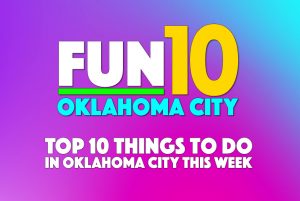 Due to the cancellation of so many regularly scheduled events in Oklahoma City – with more coming in every hour – we're focusing this week's edition of Fun10OklahomaCity on fun entertainment you can enjoy in the safety of your own home or while practicing safe 'social distancing' while the state begins the process of opening back up.
FUN10 — ten ways for you to have fun in Oklahoma City, this week and every week, running every Sunday, only on your site for fun, free, local entertainment, OnOklahomaCity.com!
So what's on the FUN10 for this week? Read on …
Taco Tuesday Patio Sessions
Make plans to head to Margarita Island OKC (8139 NW 10th Street Oklahoma City) this Tuesday Jun 2 form 6 – 10 p.m. for Taco Tuesday Patio Sessions!
This week's Patio Session features Cody Abbott! Laura will make tacos! 2 for 1 Margaritas! It doesn't get any better!
For more information, please visit https://www.facebook.com/events/255520335769429/.
Summer Outdoor Cornhole League
Hey Oklahoma City, it's time for some Cornhole!
Join the Lighthouse Beach Bar (3330 NW 112th Terr Oklahoma City) this Tuesday Jun 2 at 6:30 p.m. for the Summer Outdoor Cornhole League!
Season Length:
7 weeks + playoff tournament (All teams make the playoffs!)
Rainout weeks will be added to the end of the season
ALL PARTICIPANTS MUST REGISTER ONLINE AT: http://okc.ossosports.com/leagues?v=upcoming&sport=Cornhole
Registration Fee Includes:
60% Payouts (50% Split proportionally between 1st, 2nd & 3rd, 10% Random Weekly Drawings)
Cornhole Equipment (You must bring your own bags!)
Team Vintage Tee Shirts
Some sweet competition & some amazing new friends!
Team Size:
2 people – ALL TEAM MEMBERS MUST BE AT LEAST 21 YEARS OLD
Upper & Lower divisions available
Format:
Cornhole – 4 matches/night against 4 different teams
Every week your TEAM will compete head to head with other teams in the league! Every week, scores and standings will be updated…
This is a Co-ed League, Mix of Male/Female is encouraged, but not required
Get your crew together NOW! You are already gonna have beers on Tuesdays.. You might as well WIN while you do.
Monday Indoor League at Andy's Altitude 1291 is also available.
ALL PARTICIPANTS MUST REGISTER ONLINE AT: http://okc.ossosports.com/leagues?v=upcoming&sport=Cornhole
Questions? Shoot us a text at (405) 418-6776
Junior and Pee Wee Camp at River Oaks Golf Club
Junior & Pee Wee Camp kicks off at River Oaks Golf Club this Tuesday Jun 2.
Dates:
June 2nd, 4th, 9th, 11th, 16th, 18th, 23rd, 25th
July 2nd, 7th, 9th, 16th, 21st, 23rd
Pee Wee Camp (Ages 5-7)
8:00 a.m.-8:45 a.m. or 9:00 a.m.-9:45 a.m.
Junior Camp (Ages 8-12)
10:00 a.m.-11:00 a.m.
Class sessions will cover things such as:
How to hit the golf ball (Ready, Aim, Fire Fundamentals learning the tools to play the game)
Driving, Long and short shots off of the ground and from the sand, putting
Rules and Etiquette (What to do and what not to)
Golf as exercise and sport (Get out and play!)
Sessions will feature practice area time with contests and prizes, but more importantly as much on course time as possible! We are here to learn how to play!
SESSIONS: Taught by Teaching Professional Jim Young and Camp Staff
Pricing:
All 14 days $350
Any 6 days $200
single day $35
Requirements: All students are required to have their own golf clubs. Proper golf attire is required including collared shirt and appropriate shorts (no gym shorts). Hat or visor is recommended. Please make sure your child uses sunscreen as well.
Sign up: Contact Jim Young by phone or text at 405-630-8183 or by e-mail at jpygolf12@gmail.com.
Virtual Toast with Ada Wrońska and César Ponce
You're welcome to join the ARTSPACE Staff Tuesday evening on Zoom for a social distance toast and special guests Ada Wrońska and César Ponce, from Plural design.
Ada and César are the creators of Plural, a studio focused on interior and product design.
Working on multidisciplinary projects, they use the concept of creativity as a lifestyle that solves and improves the needs of communication and interaction through their creations.
"People creating for people"
Visit their Instagram: www.instagram.com/designbyplural/
Grab a drink and join us! Tuesday, June 2nd, at 6:30 p.m. on Zoom.
Join Zoom Meeting:
https://us02web.zoom.us/j/86210840115
Meeting ID: 862 1084 0115
#virtual #talks #interiordesign #productdesign
Early Explorers LIVE!
Join Science Museum Oklahoma for Early Explorers (virtually!) at SMO!
Ideal for scientists 6 years old and younger, Early Explorers features hands-on activities that teach kids about basic scientific concepts and that can be easily replicated for a #SMOatHome experience. Guided by SMO's museum educators, Early Explorers is perfect for young scientists with short attention spans.
For more information, please visit https://www.facebook.com/events/181726663205013/.
Summer Music Jam
Summer's here and you've been quarantined for way too long! Come out & enjoy some live music, FREE FOOD, and drink specials. $10 at the door.
This is a 21+ age event.
Ckai Dawson & Elevation Band will provide the music and melodies.
DJ Uncle Willie Son will be on the 1's and 2's.
Bid NEW BEGINNINGS to ULOKCYP chapter (re)founder Damarcus Alexander as he moves to DC.
Let's have a good and safe time. Please wear a mask. 🙂
By attending this event, you give the Urban League of Greater Oklahoma City and its partners, including Bistro 46 Restaurant & Grille, permission to photograph and video record your image and likeness, and to use it in marketing and promotional materials in perpetuity.
For more information, please visit https://www.facebook.com/events/243545490275455/.
Village Sidewalk Sale and Flea Market
Come out and score some great deals on all things vintage and hand made! Out Door Village Flea Market and sidewalk Sale of 2020, this Saturday Jun 6 from 10 a.m. – 4 p.m.!
Booths will be set up all along the sidewalk and in the parking lot in front of Nd foods, AtoZ, and Room3vintage. Vendors from all over will be joining us, from all around Oklahoma! You won't want to miss this event.
There will be great buys, hidden gems to be found, great food and fun to be had by all.
We hope to see y'all here!
Interested in setting up a booth at the Flea Market? Send us a message or call (405)607.0749. The cost is $25 to set up.
For more information, please visit https://www.facebook.com/events/900366140481384/.
Sunday Twilight Concert Series
Join the Arts Council Oklahoma City every Sunday night this summer for the 2020 Sunday Twilight Concert Series!
Each week we will bring you a different genre of music from local and regional acts from 7:30 to 9 p.m. We kick off the season by live-streaming from The Jones Assembly which you can watch here on Facebook!
Visit www.artscouncilokc.com for more information
Sunday Jazz Brunch
Wrap up the week with a Sunday Jazz Brunch at Rococo Penn (2824 N Pennsylvania Ave Oklahoma City) with Jessi, this Sunday Jun 7 at 11 a.m.!
Come enjoy tasty brunch offerings, an exquisite seasonal menu, a full bar, excellent service, social distancing safety measures, and live music from Jessica Tate.
Sunday Funday!!!!!
For more information, please visit https://www.facebook.com/events/2972674292780548/.
Back in the Saddle Sale!
The Market at Norhtpark (12202 N May Ave Oklahoma City) is "Back in the Saddle" and open for business!
They opened March 1, 2020 then had to shut down 2 weeks later. Now they are back open, ready for another RE-GRAND OPENING!!!
Come see us as we have a summer kick off sale on Sunday June 7th from 12-5pm.
We will have wine, shopping and every 30 minutes a drawing for a gift certificate to The Market!!
We have 78 Oklahoma owned small businesses under one roof. This is a great opportunity to support your fellow Oklahoma business owners! We are located inside The Shoppes at Northpark on the North end across from Rococo.
For more information, please visit https://www.facebook.com/events/2558247481103750/.
Stay tuned to OnOklahomaCity.com, your site for fun, free, local entertainment for upcoming events in our weekly column, FUN10, every Sunday!
#Fun10OklahomaCity
Tess Abney is a freelance writer who was born and raised in the Quad Cities. She spends most of her time attempting to successfully raise three boys. In her free time, writing is her passion. Whether it is sharing local events and businesses with readers or sharing her thoughts on life, she finds comfort in the way words can bring people together.