10 Fun Things To Do Week of May 24th: Storytime, Flowers, Markets and MORE!
OnOklahomaCity.com proudly presents a brand-new new feature, FUN10, a list of the top 10 things to do in Oklahoma City this week, and every week! Every Sunday, we'll drop a new FUN10, to give you a head start on your week and a heads up on what's going on over the coming seven days. Check out FUN10 every Sunday for the details on ten awesome events happening around town. It's a cool read, and a great way to get started planning your entertainment for the week.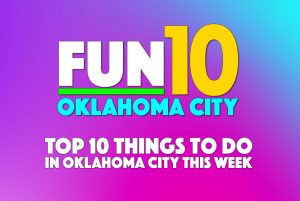 Due to the cancellation of so many regularly scheduled events in Oklahoma City – with more coming in every hour – we're focusing this week's edition of Fun10OklahomaCity on fun entertainment you can enjoy in the safety of your own home or while practicing safe 'social distancing'.
FUN10 — ten ways for you to have fun in Oklahoma City, this week and every week, running every Sunday, only on your site for fun, free, local entertainment, OnOklahomaCity.com!
So what's on the FUN10 for this week? Read on …
Memorial Weekend Garden Feast
Memorial weekend falls early this year – so let's get planting!
Join Lia's Garden at CommonWealth (1016 NW 32nd Street Oklahoma City) for a Memorial Weekend Garden Feast this Saturday May 23, Sunday May 24 and Monday May 25 from 10 a.m. – 2 p.m.
See website for available plant varieties: www.eliawoods.com. Shop early for best selection.
*Free Native Scarlet Sage (see pic) for all purchases over $25
*Free seed packets for customer wearing masks (choose from: Tickseed Coreopsis; Cowpen Daisies; Sunflowers; and Okra)
*Additional days/hours added to maximize planting days
*All plants/offers are first come first serve, unless pre-ordered online, and while supplies last.
Please practice social distancing and best practices while enjoying the gardens.
Storytime Science: Growing In Our Own Special Way
Science Museum Oklahoma is bringing Storytime Science to you … live! Join this Tuesday May 26 at 10 a.m. as we read a story and then follow it up with a scientific activity related to the book, all live on Facebook.
On Tuesday, May 26, we'll read "Growing In Our Own Special Way," written and illustrated by C.E. Dale, and learn how to make seed bombs!
From author C.E. Dale: Meet Corbyn, a kind and curious 9 year old who is wanting to know more about what makes his little brother Liam a little bit different than the other kids his age. Through learning about the specific needs of the plants in his family's garden, he starts to understand that instead of wondering what made Liam different, he was learning about what made his brother amazing in his own special way.
—
This is a live #SMOatHome event only available on Facebook Live. Find the video on our main page, in the event discussion, or here: www.facebook.com/sciencemuseumok/live
Science Museum Oklahoma is temporarily closed to the public in response to COVID-19. See our full Facebook Live schedule at www.sciencemuseumok.org/smoathome/live.
Learn more about our temporary closure here: www.sciencemuseumok.org/covid-19
LIVE with Mother Earth!
Join OKA Beautiful on Tuesdays and Thursdays from 2 – 2:30 p.m. for LIVE with Mother Earth!
From the Facebook event page:
"At our heart, we are an environmental education organization. And while it pains us not to be with you, we can help you continue this learning at home. We will be reading books and playing games related to plants, recycling, litter, and composting! The books and activities will be geared toward elementary ages Pre-K through 4th grade."
Please be kind, these are not our normal professional actors – program director Kristen Milburn as "Mother Earth", her unwitting roommate Suzie Loveless as "Darlin Daisy", and Hank the office dog as "Larry the Litterbug".
Argentine Tango Lessons
Come and enjoy Argentine Tango lessons every Wednesday at IDanceStudio (3001 NW 73rd Street Oklahoma City). You'll love to learn about Tango dance, music, styles etiquette and culture. You'll love it!!!
7-8pm Beginners – Intermediate/Advanced Levels
$35 Registration fee. $55 Monthly fee
Become a member and pay $45 monthly.
Also, join us on the 1st and 3rd Friday of every month for our Tango dance socials (Milongas). Lesson at 7pm – All Levels!!! Social 8pm – 11:30pm. Lesson & Social (Milonga) $10.00
If you have any questions please contact us at contact@idancestudio.com
Please check out our full schedule of classes at www.idancestudio.com
International Dance Studio 3001 NW 73rd Street, Oklahoma City, Ok 73116 (405) 748-0082
Lunch with Painted Sky Opera: Mary McDowell and Andre Chiang
The third installment of Painted Sky Opera's online recital series featuring artists from past productions singing and talking about their craft will take place this Thursday May 28 at 12 p.m. On this installment, we feature soprano Mary McDowell and baritone Andre Chiang.
Both Mary and Andre have appeared numerous times with Painted Sky Opera, including most recently together in our January/February 2020 production of GLORY DENIED as Younger Alyce and Older Thompson respectively.
Watch on our Facebook page at noon CDT on Thursday, May 28. and bring your lunch!
For more information, please visit https://www.facebook.com/events/734385314020437/.
Thursday Afternoon Markets
Join FreshPoint Oklahoma (3100 N I 35 Service Rd. Oklahoma City) every Thursday at 3 p.m. for 'Thursday Afternoon Markets with MIO Product Partners".
This market is featuring different vendors from the Made in Oklahoma Coalition, rotating meat features from Buckhead Meat of Dallas, and of course a variety of their very own fresh produce items.
Watch for weekly features or special guests on their Facebook page at https://www.facebook.com/FreshPointOklahoma/.
Oklahoma City Pow Wow Club Spring Benefit
The Oklahoma City Pow Wow Club moved their Spring Benefit from May 2 to this Saturday May 30 from 1 – 11 p.m. at Indian Hills (8980 N Sooner Rd Oklahoma City). They will be adhering to CDC and Govt. regulations regarding gatherings.
Check out this lineup of activities:
Gourd Dance 1pm
Supper 5pm
Gourd Dance resumes 6 pm
Grand Entry 7
7:15 Social & War Dancing, Inter-Tribals, Specialty Contests
MC – Eugene Blackbear
AD's – Randy Frazier & RJ Berry
Head Gourd Dancer – Bruce Caesar
Headman Dancer – Pending
Headlady Dancer – Kennetha Butler
For more information, please visit https://www.facebook.com/events/749355725588290/.
OKC Flower and Garden Festival
The annual Oklahoma City Flower and Garden Festival returns to Myriad Botanical Gardens Saturday, May 30, from 9 a.m. to 4 p.m!
This fun-filled event includes local vendors nestled in on the west side of the Gardens next to Mo's Carousel and the Children's Garden. The annual festival features an abundance of plants and more, sure to brighten up anyone's home.
Visitors will find Oklahoma-grown herbs, perennials, annuals, native plants, culinary herbs, vegetable plants, flowers, produce, pottery, jewelry, wineries, succulents, ornamental grasses, milkweed, pollinator plants, wildlife habitat and more.
Want to be a vendor? Visit here for the form https://oklahomacitybotanicalgardens.com/garden-gardening/okc-garden-festival/
For more information, please visit https://www.facebook.com/events/2651090108500943/.
Monthly Guided Walking Tout with Myriad Botanical Gardens
Expand your knowledge of Oklahoma plants and find inspiration for your own garden with Myriad Botanical Gardens' (301 W Reno Ave. Oklahoma City) educational walking tour this Saturday May 30 at 10 a.m.
Each month will feature different plants from our outdoor collection that make great choices for our region – from year-round color to drought-tolerant choices and more. Self-guided plant tour handouts are available in our north lobby.
Location: Garden Grounds, meet in the south lobby
In keeping with recommendations and requirements from city, county, and state officials regarding COVID-19:
Pre-registration is required to attend – the tour is still free! https://bit.ly/3geEsw7
We encourage all attendees to wear a mask for the walk.
All attendees must social distance in order to participate. The guide will be wearing a mask and a microphone so everyone can hear them.
May Watering Hole with Jack Mosley
Hey Central Oklahoma Parrothead Association, what time is it? It's time for a team drink and some chicken on the side!
Come on out to Halftime Sports Grill (6812 SW 55th St. Oklahoma City) on May 31st to kick off our "Let's Get Out Of The House Tour"! We will have Jack Mosley there from 6:00 to 9:00 to sing some of your favorite tunes. The 50/50 Benefiting Autism Oklahoma, Lanyard, and Door prize drawings will be there too.
Now that it is suggested to wear a mask when out and about, a few Parrot Heads have asked to have a contest to show off their skills on making one. We will have judges pick the best of the best during the break, so get creative and give it your best shot!
See you There!
For more information, please visit https://www.facebook.com/events/249630872962721/.
Stay tuned to OnOklahomaCity.com, your site for fun, free, local entertainment for upcoming events in our weekly column, FUN10, every Sunday!
#Fun10OklahomaCity
Tess Abney is a freelance writer who was born and raised in the Quad Cities. She spends most of her time attempting to successfully raise three boys. In her free time, writing is her passion. Whether it is sharing local events and businesses with readers or sharing her thoughts on life, she finds comfort in the way words can bring people together.