10 Fun Things To Do Week of May 10th: Yoga, Coffee, Painting and MORE!
OnOklahomaCity.com proudly presents a brand-new new feature, FUN10, a list of the top 10 things to do in the Oklahoma city this week, and every week! Every Sunday, we'll drop a new FUN10, to give you a head start on your week and a heads up on what's going on over the coming seven days. Check out FUN10 every Sunday for the details on ten awesome events happening around town. It's a cool read, and a great way to get started planning your entertainment for the week.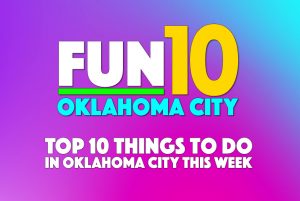 Due to the cancellation of so many regularly scheduled events in Oklahoma City – with more coming in every hour – we're focusing this week's edition of Fun10OklahomaCity on fun entertainment you can enjoy in the safety of your own home or while practicing safe 'social distancing'.
FUN10 — ten ways for you to have fun in Oklahoma City, this week and every week, running every Sunday, only on your site for fun, free, local entertainment, OnOklahomaCity.com!
So what's on the FUN10 for this week? Read on …
SMO Oceanarium: The Deep Sea Live!
Join the Science Museum Oklahoma live at the Oceanarium (virtually!) for a conversation with Isaac, our Oceanarium caretaker and exhibit technician! On Wednesday, May 13, we'll learn about the animals that live in the deep sea and the adaptations they have to make to live in the conditions of the deep ocean.
This is a live #SMOatHome event only available on Facebook Live. Find the video on our main page, in the event discussion, or here: www.facebook.com/sciencemuseumok/live
Science Museum Oklahoma is temporarily closed to the public in response to COVID-19. See our full Facebook Live schedule at www.sciencemuseumok.org/smoathome/live.
Learn more about our temporary closure here: www.sciencemuseumok.org/covid-19
BOMA Virtual Happy Hour
Grab a beverage of your choice and join BOMA Oklahoma City, as they play BOMA BINGO!
BOMA Virtual Happy Hour: BOMA Bingo takes place this Thursday May 14 from 4 – 5 p.m. on ZOOM!
Prizes will be awarded to those who BINGO! Register on the BOMA OKC website at www.bomaokc.org!
You will received the Zoom information in your confirmation email.
What's Growing On: The Evolution of Plants LIVE!
Join the Science Museum Oklahoma for What's Growing On … Live!
SMO Gardens & Grounds manager Barry will talk gardening in these special Facebook Live events while the museum is temporarily closed to the public as part of #SMOatHome. Find the live feed on our main page!
On Friday, May 15th, we'll learn about the evolution of plants! From moss to ferns to pines and flowers, we'll learn about how plants have changed over time.
This is a live #SMOatHome event only available online. Science Museum Oklahoma is temporarily closed to the public in response to COVID-19. See the whole schedule at www.sciencemuseumok.org/smoathome/live and learn more about our temporary closure www.sciencemuseumok.org/covid-19
Front Porch Luminaria
The fight against cancer is being challenged like never before, and the mission of the American Cancer Society is so critical to families facing cancer. In the face of this threat to our mission, we are bringing communities across the state of Oklahoma and the Texas Panhandle together to show that we won't back down from our mission to save lives from cancer.
If you have never experienced a Luminaria Ceremony, it is a moving display of tributes to either honor loved ones who are surviving cancer or to remember loved ones lost.
Traditionally, white paper bags are decorated, and a light is placed inside to create the Luminaria.
Please, join our Front Porch Luminaria Ceremony on May 15th, and be a part of this area wide movement that will put hope on display in front of our homes, and raise crucial funds to support the mission. Here's how:
Step 1: Log on to your community Relay For Life website or find the Relay For Life nearest you at www.RelayForLife.org, and donate just $10 for a Luminaria.
Step 2: Share the website link with 10 friends and invite them to participate in the ceremony with you.
Step 3: Check out the event discussion for instructions and ideas on how to create/decorate a Luminaria with items in your home.
Step 4: Place your Luminaria on your front porch(or any other display that you would like) on May 15th, any time between 7:00 p.m. and 10:00 p.m., and post a photo in this event's discussion so we can honor and remember together, even though we are apart. Please also use #ACSOKTXPAN so we can see your beautiful tributes.
Thank you for being a part of this movement to spread hope and save lives. If you have questions, contact Regan.Nabors@cancer.org
Live Virtual Paint & Sip at Oblivion Art Bar
Join Oblivion Art Bar (5841 Nw 10th Street Oklahoma City) VIRTUALLY for some live painting and sipping!
FB Live Virtual Paint & Sip sessions will take place this Saturday May 16 and include the following options:
Moonlight Meow @ 1 p.m.
Find Your Way @ 4 p.m.
Butterfly Affection @ 7 p.m.
Join live on FB for another awesome expression of art with one of Oblivion Art Bar's exciting artists from the caves of our Atelier in the Melanin District of OKC. This like most of their virtual parties, is free to watch however if you or your family would like to participate with a canvas you can purchase TO GO kits here. The kits are available by delivery anywhere in the U.S. or pick up in Oklahoma City.
Sweat. Play. Love!
Join 405 YOGA & lululemon on Saturday, May 16th for a playful and powerful, continuous flow of breath-based movements to builds strength and flexibility. One of OKC's fave teachers, Mimi Huynh, will be rocking a creative 405 Power Flow sequence and an energetic playlist to get you moving, breathing (and maybe dancing)! This class is guaranteed to make you sweat, smile and feeling all the love!!
This class is streamed live via Zoom from our studio in Midtown, OKC! Sign up in advance – space is limited! Email link to join virtually will be provided within an hour of the class start time (First time practicing on zoom? visit www.405yoga.com/405live for intructions). Signing into the meeting at least 5 minutes before class start time to be ready to go is recommended!
This practice is open to practitioners of any level! Modifications and variations given for all students – beginners to advanced! No matter what your level, you'll sweat and grow!
Abstract Live Stream
Are you ready for some all-night house music? Then check out Abstract Live Stream this Saturday May 16 from 9 p.m. – 12 a.m.
Link to stream: https://linktr.ee/abstractokc
Jef Diamond + JNZO + KAPTCHA + RAD + TNDR ft. The Kandi Girls
Visit https://www.facebook.com/events/655749435248854/ for more information.
SixTwelve Coffee Talk
Join SixTwelve Coffee Talk on Zoom every Saturday morning!
Hello friends! We've taken the last few weeks to transition our regular children's programming over to an online format, to apply for all of the help we can get and to try to adjust to the new normal, but we've missed you! We would love to catch up and to bring back our "Coffee Talk" meetings every Saturday morning at 8am on Zoom until we can meet in person again. If you can join us, follow the link below each week and we'll look forward to seeing your wonderful faces.
https://us04web.zoom.us/j/951142917
Climate Change Bingo!
Get your stampers or beans out and get ready for (online) BINGO!
Join Oklahoma Sierra Club, Oklahoma Climate Crisis Task Force and Green Country Sierra Club for a fun-filled evening of Climate Change Bingo, this Saturday May 16 from 7 – 9 p.m. online!
There will be multiple rounds, all themed Climate Change and have some fun while learning more about this crisis we all are facing. Make sure to select going and submit your email address to receive a Bingo card and the Zoom link to join us on May 16th.
Stay Connected with National Cowboy & Western Heritage Museum
While the National Cowboy & Western Heritage Museum may be temporarily closed to visitors, they are still offering plenty of interesting and exciting online material to enjoy! Take a Virtual Tour, find some great projects to do at home and utilize their online education resources!
Visit the National Cowboy & Western Heritage Museum's website and follow them on Facebook for exciting updates!
Stay tuned to OnOklahomaCity.com, your site for fun, free, local entertainment for upcoming events in our weekly column, FUN10, every Sunday!
#Fun10OklahomaCity
Tess Abney is a freelance writer who was born and raised in the Quad Cities. She spends most of her time attempting to successfully raise three boys. In her free time, writing is her passion. Whether it is sharing local events and businesses with readers or sharing her thoughts on life, she finds comfort in the way words can bring people together.