10 Fun Things To Do Week of June 7th: Concerts, Camping, Movies and MORE!
OnOklahomaCity.com proudly presents our newest feature, FUN10, a list of the top 10 things to do in Oklahoma City this week, and every week! Every Sunday, we'll drop a new FUN10, to give you a head start on your week and a heads up on what's going on over the coming seven days. Check out FUN10 every Sunday for the details on ten awesome events happening around town. It's a cool read, and a great way to get started planning your entertainment for the week.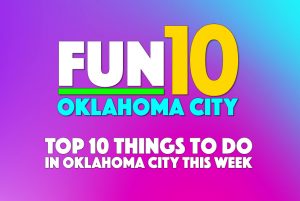 Due to the cancellation of so many regularly scheduled events in Oklahoma City – with more coming in every hour – we're focusing this week's edition of Fun10OklahomaCity on fun entertainment you can enjoy in the safety of your own home or while practicing safe 'social distancing' while the state begins the process of opening back up.
FUN10 — ten ways for you to have fun in Oklahoma City, this week and every week, running every Sunday, only on your site for fun, free, local entertainment, OnOklahomaCity.com!
So what's on the FUN10 for this week? Read on …
Concert in the Park
Looking for some free family fun this Thursday night? Then make plans to enjoy Edmond's Concerts in Park!
Bring the whole family out this Thursday Jun 11 (and every Thursday through Aug 13) from 6:15 – 9 p.m. for Concerts in the Park at Hafer Park Stage (2733 Marilyn Williams Dr. Edmond).
Bring your lawn chairs and blankets! Snow cones will be sold during the event.
Here is this year's lineup:
June 11
Squeeze Box (Classic Rock) & Teasing Weasel (Modern Rock)
June 18
Souled Out (Pop Variety) & Pappa Nooch Band (Original)
June 25
John the Franklin (Light Rock) & Sentimental Social Club (Soft Rock/Blues)
July 2
Michael Fresonke Jazz Combo (Pop) & Kerry Wayne Rockstar Band (Old School Funk)
July 9
Bonham Brothers (Bluegrass) & Random Order (Variety Rock)
July 16
Boyd Street Bass (Jazz) & Sophia Massad (Indie)
July 23
Stars (Oldies) & Jake Gill (Country/Rock)
July 30
The Old Bulldog Band (Classic Rock)
August 6
Champaign Jam (R&B/Rock) & City Moon (Country)
August 13
Ciara Brooke (Pop) & The Mckee Brothers (Hot Jazz)
For more information, please visit https://edmondok.com/978/Concerts-in-the-Park.
The Great Campout
Join Tinker Living for a night under the stars without having to travel outside the metro area. Families are encouraged to pitch a tent and enjoy the evening. Hot dogs, chips and a drink, popcorn, s'mores, and watermelon will be provided free of charge.
The Great Campout will take place this Friday Jun 12 – Saturday Jun 13.
Campers will enjoy the great outdoors while watching an outdoor movie and playing lawn games. Games will be staffed to service plastic bags over bean bags and sanitized between users.
Outdoor Recreation will rent tents and sleeping bags for a nominal fee. S'mores making class will start in the evening shortly after the bon fire. A large telescope will be out for star gazing and staffed for sanitation.
Arts & Crafts will host craft classes for kids – 6 feet distance at craft tables while buildong birdhouses, bracelets, etc.
SOCIAL DISTANCING
– Campers with tents will be spaced a minimum of 20 feet, ground will be marked for tents. Tent location registration required through ODR: 405.734.5875
– Seating for movie will be spaced and ground marked with 10 feet distance on ground. Masks are highly encouraged for anyone sitting in the movie area.
– Food line area will be spaced with cones 6 feet apart. All food will be served – no self service allowed. Staff serving will have gloves and masks.
– Four additional handwashing stations will be rented with soap and water along with port-o-johns with hand washing stations. Disinfectant spray at port-o-johns.
– Hand sanitizer will be provided in multiple locations.
For more information, please visit https://www.facebook.com/events/542090216701455/.
Virtual OF+MO Film School
The Oklahoma Film + Music Office, in conjunction with the deadCenter Film Festival, will host the "OF+MO Film School", a two-day series of virtual film education courses. Each hour-long class will feature a live Q+A session during the last fifteen minutes of broadcast.
"OF+MO Film School" classes will be free and open to the public who may access them via deadCenter's Facebook and Vimeo platforms, as well as OF+MO's Facebook page.
FRIDAY, JUNE 12
10:30 a.m. – Screenwriting with Matt Payne, Screenwriter/Producer
11:30 a.m. – Intro to Production with Nathan Gardocki, Owner of NGP Video Equipment Rental
12:30 p.m. – Stop Motion Animation with Kyle Roberts, Creative Director at Reckless Abandonment Pictures
1:30 p.m. – CGI Animation with Stephanie Roach, Lead Animator/3D Artist
2:30 p.m. – Virtual Auditions with Ricki Maslar, Casting Director
3:30 p.m. – Location Scouting with Alison Naifeh, Location Scout, Chris Kucharski, Location Manager, and Dylan Brodie, Location & Production Manager
SATURDAY, JUNE 13
10:30 a.m. – Costuming with Jack O'Dell, Costume Designer, and Jenava Burguiere, Costume Designer/Seamstress
11:30 a.m. – Post-Production with Jacob Ryan Snovel, Actor/Producer, and Garrett Starks, Owner of Castle Row Studios
12:30 p.m. – Vanities (Hair + Makeup) with Toni Marlo, Makeup Artist & Owner of MarloHaus Makeup and Hair Artists of Oklahoma, and Alex Ford, Hair Stylist
1:30 p.m. – Set Etiquette with Richard Janes, Emmy Award-winning Entrepreneur
2:30 p.m. – Producing Films in Oklahoma (instructors TBA)
3:30 p.m. – Art Department with Sean Lynch, Digital Cinema Instructor at Oklahoma City Community College
Details at deadcenterfilm.org.
Symphony Show House
Don't miss the chance to tour the 46th Symphony Show House and support the OKCPHIL, music education and community engagement.
Opening the doors to architectural gems and prestigious addresses for 46 years, the Symphony Show House (2737 Guilford Ln. Oklahoma City) is widely considered Oklahoma's premier annual show house event. Whether starting with the blank canvas of a new home or the character of a historic manor, the region's top designers transform homes into the unexpected.
More than just a home tour, Symphony Show House is a vital source of charitable fundraising for the OKC Philharmonic. More than 144 schools are relying on the OKCPHIL's programs to keep music alive in their classrooms and 10,000 students attend free concerts each year. Businesses, organizations and individuals can reach both marketing and philanthropic goals through a variety of Symphony Show House support opportunities.
This modern marvel has 8,000 square feet, 5 bedrooms, 9 baths, a beautiful pool, fire pit & patio– listed with Wyatt Poindexter.
From 11 a-12 p each day is reserved for at-risk community members. The project will adhere to CDC, state & local guidance for COVID-19 health and safety. Guests are encouraged to purchase tickets in advance.
Visit https://www.okcphil.org/support-the-phil/symphony-show-house-2020 for more information.
Movie Night on Lost Lakes
Come join Nightfall Haunted Territory and Wake Zone Cable Park for a special screening of "SCREAM" on Lost Lakes!
Bring your favorite flotation device or you can rent one.  Also, if you're not a fan of water, you can bring a chair or a blanket to watch on the lawn.
Food and a full bar will be available. And there's not a better way to enjoy a movie while sipping a cocktail and lounging around!
No outside food or drinks, coolers, weapons, or drugs allowed.
All guest at Nightfall Haunted Territory must complete a waiver upon arrival to attend the screening. All children under 10 are required to wear a life jacket.
For more information, please visit https://horrorconokc.com/product-category/special-events.
Will Rogers 30th Annual Garden Festival
The Oklahoma City Council of Garden Clubs is hosting the 30th Annual Garden Festival in the Park at Will Rogers Gardens (3400 NW 36th Oklahoma City).
Expect to find those heirloom plants, like your grandmother grew, and plants that survive and thrive in the challenging Oklahoma climate.  There will also be vendors with stained glass, jewelry and garden/yard art items.
For more information, call 405.297.1394 and check the Friend's website for updates: https://friendsofwillrogersgardens.org/
40 West Presents: Another Pink in the Floyd
40 West Presents: Another Pink in the Floyd with guest Jukebox Hero, this Saturday Jun 13 at 40 West Bar & Grill featuring The Happy Smoker (501 N Mustang Rd. Yukon). Doors open at 8 p.m. and the show begins at 9:30 p.m. This is a 21+ event.
Purchase your advance tickets at https://40west.ticketleap.com/floyd.
Another PINK In The FLOYD is a project created to take you on a TRIP back in time to re-live, and experience the music of Pink Floyd. Another PINK In the FLOYD will blow your mind as they perform songs from The Dark Side of the Moon, Wish You Were Here, Animals, The Wall, Division Bell, plus many more. Don't miss the experience of a lifetime.
Band Members:
Tyler Lee Lead–Guitar/Lead Vocals
Jeremy Dodd– Bass/ Lead Vocals
Mark Holley– Keyboards/Vocals
Jim Spalding– Drums/Vocals
Michael Kleid– Saxophone
Pollinators, Please!
Who doesn't love flowers?! Whether it's a Monarch Way Station, companion planting for your garden, free bouquets or just general beauty, we all need flowers in our garden.
Join TLC Donation Garden (715 NW 62nd St. Oklahoma City) in this magical class to learn when to sow seeds, what will take over, what is easy and what is not.  Pollinators, Please! will take place on Saturday Jun 13 from 1 – 2 p.m.
***NOTE*** All classes have a suggested $10 cash donation to go back into the gardens, as we grow produce to solely donate to your communities less fortunate. This class will be held at the gardens and not at a TLC Garden Center location.
See You Saturdays
EVERY Second Saturday of the month in 2020 at the Oklahoma Hall of Fame at the Gaylord-Pickens Museum (1400 Classen Dr. Oklahoma City) is FREE!
There is so much to see! The line-up of new experiences provides immersive interaction with Members of the Oklahoma Hall of Fame and inspiring connections to the impact of art in a community. New museum features are highlighted below:
NEW Makerspace – A permanent installation by Oklahoma City artist Kris Kanaly will be featured in the remodeled Makerspace on the second floor of the Gaylord-Pickens Museum. This amazing artist has created a bright and intricate work that represents all of Oklahoma and the images that unite us. The Makerspace also features new STEAM activities and hands-on creativity exercises.
NEW Picture Yourself! – The third installment of the immensely popular Picture Yourself exhibit will feature interactive displays that highlight Rodeo, Weather and Slam Dunk. In Picture Yourself, you step inside the gilded frames of Members of the Oklahoma Hall of Fame and create your own viewpoint of being a proud Oklahoman.
Saturday Hours are 10:00 a.m. to 5:00 p.m., make a plan to visit! Visit https://oklahomahof.com/see-you-saturdays for more information.
Cool Pops!
You're not a regular dad — you're a cool pop!
Celebrate your awesomeness, or that of your favorite father figure, at a FREE pop-up photo booth at the Myriad Gardens on June 14 from 10 a.m. to 3 p.m.
Join us on the Myriad's Devon Lawn for a photo in front of our Father's Day backdrop. Bring your own props and cameras and share your photos on social using #CoolPopsOKC. Plus, enjoy a chalk obstacle course for families to navigate around the lawn as well two food trucks on site, Just Desserts and The Healthy Hippo.
The first 100 families will receive one Father's Day coloring craft from MetroFamily and one seed kit from the Myriad for at-home gardening fun. This special event is sponsored by Green Bambino. Please maintain recommended social distance recommendations while on the garden grounds.
For more information, please visit https://www.facebook.com/events/698427364240427/.
Stay tuned to OnOklahomaCity.com, your site for fun, free, local entertainment for upcoming events in our weekly column, FUN10, every Sunday!
#Fun10OklahomaCity
Tess Abney is a freelance writer who was born and raised in the Quad Cities. She spends most of her time attempting to successfully raise three boys. In her free time, writing is her passion. Whether it is sharing local events and businesses with readers or sharing her thoughts on life, she finds comfort in the way words can bring people together.